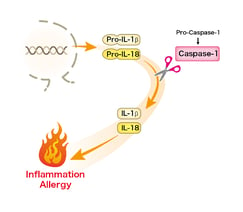 Interleukin-18 (IL-18) is a member of the IL-1 superfamily and synthesized as an inactive precursor requiring processing by caspase-1 into an active cytokine. IL-18 plays a major role in the production of interferon-γ (IFNγ) from T cells and natural killer cells. Refresh your memory by reviewing a couple of previous blog posts.
MBL is the first supplier of antibodies and ELISA kits for IL-18. These reagents have become the gold standard worldwide in IL-18 research area. You may have heard about clone #125-2H or ELISA kit code #7620 since they are developed and manufactured by MBL.
Our ELISA kit for human IL-18 (code #7620) and mouse IL-18 (code #7625) are the most cited kits for IL-18. Therefore, we have been able to accumulate significant information from researchers. For example, researchers have shown our ELISA kits can be used to detect IL-18 levels in various samples that we have not tested. Our ELISA kits have been tested using serum, plasma, and cell culture supernatant by MBL. However, as publications are released, we have learned that it also can be used for urine, tissue homogenate, etc. If you want to use other samples to measure IL-18, please contact us. We can lead you to the correct citation to help you.
Human urine samples

Am Soc Nephrol. 2010 Jan; 21(1):189-97. (PMID: 19762491)
Nephrol Dial Transplant. 2008 Feb; 23(2):566-72. (PMID:17911094)
J Am Soc Nephrol. 2005 Oct; 16(10):3046-52. (PMID:16148039)
Mouse tissue homogenate

J Biol Chem. 2012 Nov 23; 287(48):40391-9. (PMID: 23027874)
J Biol Chem. 2012 May 11; 287(20):16955-64. (PMID: 22461621)
Int Immunol. 2010 Jul; 22(7):561-70. (PMID: 20497957)
Another frequent inquiry pertains to "cross reactivity to pro-IL-18". We have answers for this question! We measured the OD values of recombinant pro-IL-18 when we constructed ELISAs. As a result, human pro-IL-18 OD was around 0.7% OD of human mature IL-18 standard. In mouse, it was less than 10%. Therefore, we can answer that the cross-reactivity of #7620 with pro-IL-18 is around 0.7%, and #7625 is less than 10%.
Please do not hesitate to contact us if you have any questions. We are happy to help you based on knowledge we have obtained by offering gold standards for detecting IL-18.