The path that an MBL antibody takes to go from development and manufacturing to the benchtop is intensive and rigorous. This meticulous attention to detail ensures that every vial a researcher uses maintains high quality and reliability. Here, we briefly describe the process.
Background
MBL Japan (MEDICAL & BIOLOGICAL LABORATORIES CO., LTD.) was established as Japan's first antibody supplier in 1969. Their focus has been on developing and providing high quality antibodies to both clinical and research markets. Japan has the largest market share in the area of autoimmune disease testing. MBL International Corporation (MBLI) was established in 1993 and provides MBL Japan's RUO antibodies, kits, tetramers, and IVD products to researchers worldwide.
MBL antibodies are developed and manufactured in Ina-city, Nagano, Japan. Ina-city is located at the center of Japan, between the central- and South-Japan Alps. More than 150 employees work at the Ina Lab, which consists of 5 major buildings and is 107,352 sqft big! MBL Japan provides both RUO and IVD products. These products are manufactured in distinct GMP-compliant areas based on ISO13485 to maintain high quality standards. In 2015, MBL Japan completed a new manufacturing facility for diagnostic products in order to meet the expanding IVD needs of researchers.
Regarding RUO products, more than 2,000 antibodies and 450 kits are manufactured and about 100 new products are developed every year.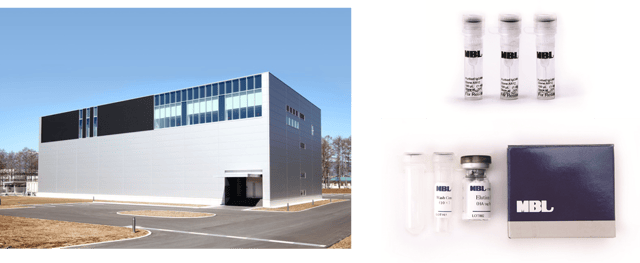 Development
We develop high-quality antibodies and ELISA kits against biomarker molecules in new disease/research area, with the support of Key Opinion Leaders (KOL) in Japan. Through the development and launch of antibodies against new markers and their related molecules, we have pioneered and expanded research markets including in the areas of Autophagy and Apoptosis.
We offer a variety of protein expression systems based on the development of autoantibody diagnostics. In this manner, we can choose any form of antigen according to the application for the antibody use.
In antigen purification, we often use in-house anti-tagged protein purification systems, that we also offer in purification kit form. Because our purification kits employ competitive peptide elution methods under neutral pH conditions, we can purify the target antigen without any loss of biological activities and conformations.
First, we evaluate antibody specificity using antigen-transfectant and parental cells. We can ensure the correct specificity by comparing reactivity between two lines (the reactivity to transfectant will be stronger than parental cells if the antibody recognizes antigen correctly.). Also, we can evaluate the reactivity of internal proteins in parental cells.
We note which applications (WB, IP, IC, IHC, FCM, ELISA) will work on the respective antibody datasheet. If the antibody can be used, recommended concentration or 'Reported' is written. If it cannot be used, 'Not recommended' or 'Not tested' is written.
Manufacturing, Quality Control
We manufacture monoclonal antibodies by culturing hybridoma in serum free medium, therefore serum components are not carried over into products. Our product purity criteria is more >90% in CBB stain.
We also alter purification methods depending on the antibodies. For example, anti-Multi Ubiquitin (clone; FK2) is a unique antibody that recognizes poly ubiquitinated and mono ubiquitinated proteins but not free ubiquitin. This antibody has higher reactivity than other suppliers due to our improved purification method.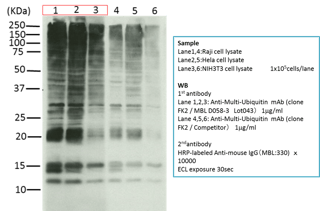 We QC every LOT manufactured. We evaluate each new lot by comparing it to past Lots for all listed applications of use.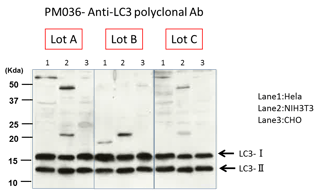 For these reasons, we are confident in the quality of our products. If you find that you have a problem using MBL antibodies, please feel free to contact us. We investigate the cause of the problem (including protocols used) before providing a replacement product. If you cannot acheive results using our recommended application/protocol, our technical support team will quickly and carefully investigate to help with troubleshooting advice. If necessary, we would propose the modification of your protocol by comparing your detailed protocols and searching citations, etc. Year over year, MBL products have a very low complaint rate. We are confident you will achieve reliable and consistent results with our products. Contact us today to see how we can help your research needs!