While MHC tetramer staining of antigen specific T cells for flow cytometry is considered highly specific, it could still be associated with non-specific staining. The gating strategy shown below is an example that investigators have used to reduce non-specific staining events using a dump channel. A dump channel can be planned on a case by case basis, on the experimental design, and consists of a pool of antibodies against cells that do not express our specific targets. For example, CD8+ T cells, anti-CD4/anti-CD14/anti-CD19 may be used to eliminate these immune cells from our targeted gate, and all may be labeled with the same fluorochrome.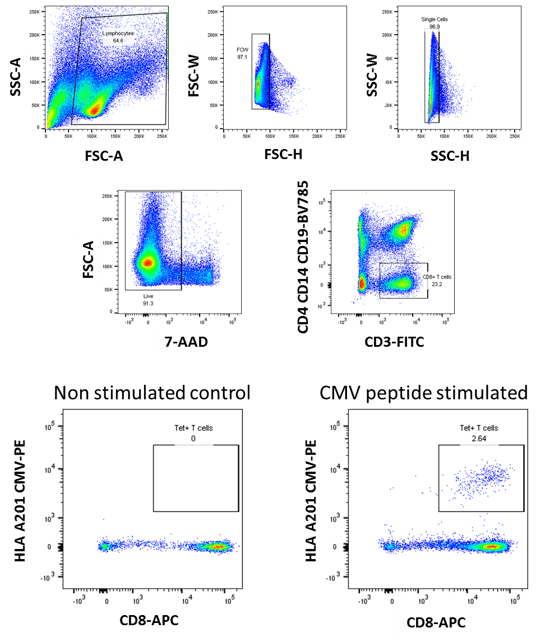 At first lymphocytes are gated using forward and side scatter (upper left). Subsequently, single cells are gated using forward scatter height and wide followed by side scatter height and wide (upper middle and right). Live cells are gated using forward scatter area and 7-AAD negative cells (middle left). Next, CD8+ cells are gated using dump channel (CD4, CD14, and CD19) negative and CD3+ cells (middle right). Non peptide-stimulated PBMCs were used to determine the CMV tetramer positive gate. The gate was set on CD8+ cells that are negative in the tetramer channel (lower left). This gate is used to identify CD8+ tetramer+ cells in a CMV peptide stimulated sample (lower right). When you run FCM, don't forget to check area, height and wide of both the forward and side scatter!
Do you have any other questions regarding tetramer staining? MBL International's new Tetramer Staining Guide will help you. The guide contains more than 90 pages of information and includes products and tips for tetramer staining.