In the biomedical field, DJ-1 is a target of interest in a variety of disease states. DJ-1 is considered a contender for a biomarker in the detection of early stage cerebral infraction since it's concentration increases 3 hours after cerebral injury. When DJ-1 is expressed in excess, it can lead to cancer. For instance, breast cancer patients show increased levels of circulating DJ-1 and anti-DJ-1 antibodies.
3
However, a loss of function can lead to neuodegenerative diseases such autosomal early-onset Parkinson's disease.
2
DJ-1 is made up of 189 amino acids and the sequence is conserved from prokaryotes to eukaryotes. It is expressed in many cells and tissues, including the brain.
1
DJ-1 has been found to have a role in protecting cells against oxidative stress and cell death. In mammalian cells, it quenches reactive oxygen species, protecting against stress-induced death.
Our
Human DJ-1/PARK7 ELISA Kit
has the ability to specifically detect human DJ-1/PARK7, and
is capable of high sensitivity detection with an LOD: 8.4 pg/mL. This is a sandwich ELISA kit that measures DJ-1/PARK7 in human serum, plasma, cell lysate and other biological samples. This kit contains plates precoated with monoclonal antibody specific for human DJ-1. After samples are added to the wells, an HRP conjugated antibody specific for DJ1 is applied. After the reaction is stopped using an acidic solution, detection is measured at 450nm. This kit allows for easy and accurate measurement of human DJ-1/PARK7.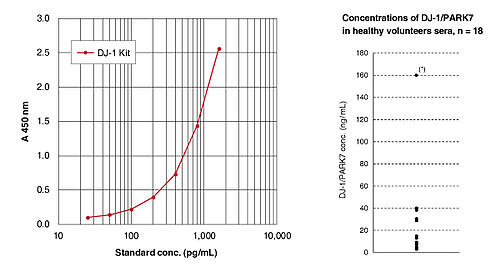 (*) Prominent hemolysis was observed in the
hghest serum. Hemolysis may affect the
measurement of DJ1/PARK7 concentrations
Ariga, H., Takahashi-Niki, K., Kato, I., Maita, H., Niki, T., & Iguchi-Ariga, S. (2013). Neuroprotective Function of DJ-1 in Parkinson's Disease. Oxidative Medicine and Cellular Longevity, 2013, 1-9.
Lev, N., Roncevich, D., Ickowicz, D., Melamed, E., & Offen, D. (2006). Role of DJ-1 in Parkinson's Disease. Journal of Molecular Neuroscience, 29(3), 215-226